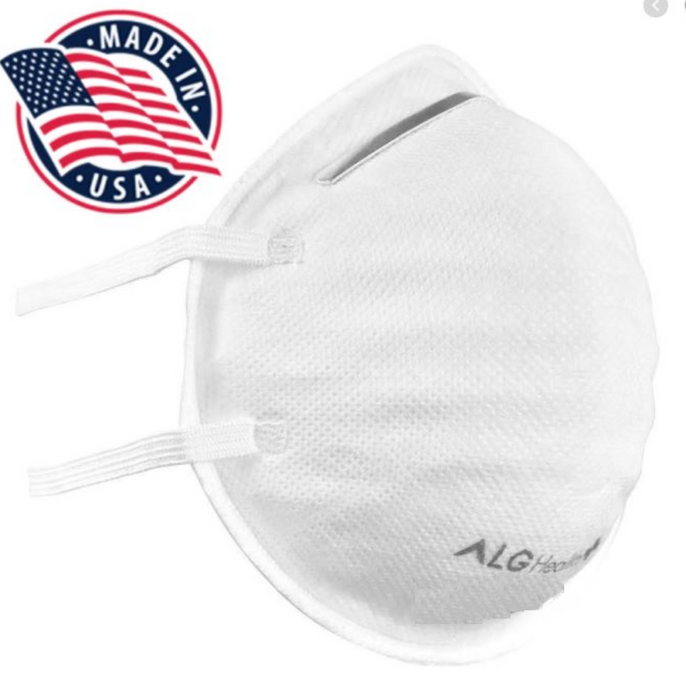 ALG Hard Cup Shell Masks (25 Pack)
ALG Face Masks similar to 3M 8210 N95 Masks

100% Made in USA (Ohio)
These ALG Hard Shell face masks filter at least 95% airborne particles that are non-oil based.  
The ALG Hard Shell Particulate Respirator Masks are sold in boxes of 25 masks. The mask is tested so functionalities such as penetration, breathing resistance and strap strength meet or exceed the standards. 
Sold in packs of 25 respirators.

Disposable ALG Hard Shell masks, are lightweight in construction to promote greater worker acceptance and helps increase wear time.
ALG masks are made of several layers of special non-woven polypropylene (synthetic polymer) fabric. This fabric is produced by melt blowing and forms the inner filtration layer in the mask that filters out hazardous particles.
Face mask with filter. >99% BFE (Bacterial Filtration Efficiency) according to ASTM F2101.   99.7% Filter Efficiency according to ICS Laboratories Inc.

Two strap design helps provide a secure seal and Pre-formed for secure fit

The straps on the respirator are completely latex-free.

Very close facial fit.  Adjustable nose clip will help provide custom fit and secure seal

Very comfortable face masks for long-term wear.  

Material: High-efficiency electrostatic filter cotton & melt blown non-woven fabric.

Glue-free and odorless face mask.  

CE Certified Masks. Our face masks have been manufactured to EEA standards, and similar filtration as masks used by hospitals, medical facilities and health professionals.