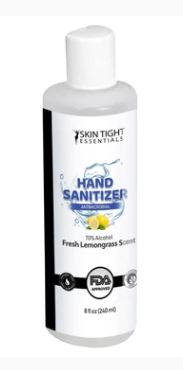 (6 BOTTLE PACKAGE) 16oz Alcohol Hand Sanitizer Gel SPECIAL DEAL - $12.99
16oz Hand Sanitizer Gel 70% Alcohol (6 Bottle Package)
6 Bottles (Package Deal) Only $1.90 per bottle - 16 ounces each
Perfect size for fitting in purses, glove compartments, or other small areas
Our 16oz alcohol hand sanitizer uses ethyl alcohol one of the CDC recommended formulations . CDC recommends 70% alcohol hand sanitizer as a good option when you don't have ready access to wash your hands for at least 20 seconds with soap and water.  16 ounce sanitizer is a perfect size for fitting in purses, glove compartments, or other small areas Lemongrass Scent Kills 99% of Germs.

Protect Yourself From Illness. FDA Compliant. 70% Ethyl Alcohol / 30% Gel.
Made and bottled in the USA.  
Lemongrass Scent

The CDC advises you use alcohol-based hand sanitizers with at least 60 percent ethyl (ethanol) or 70 percent isopropyl alcohol. Why? According to Hadley King, MD, a board-certified dermatologist in New York, "this percentage of alcohol is effective in killing bacteria and viruses on our hands. It works by denaturing the protective outer proteins of microbes and dissolving their membranes.