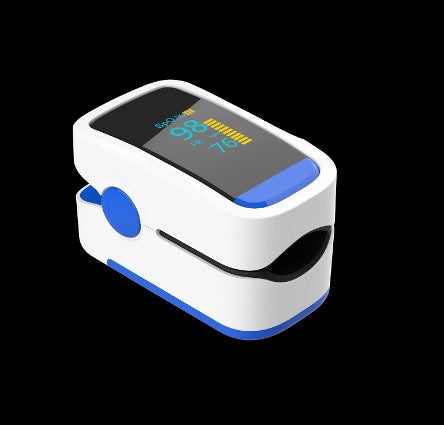 Pulse Oximeter Oxygen Measuring Device
A pulse oximeter is a painless and reliable way for clinicians to measure a person's blood oxygen levels. When you breathe, oxygen enters your lungs, passes through thin membranes and enters your blood stream — where it's then picked up by red blood cells and carried around the body to various organs.

A pulse oximeter measures the proportion of oxygenated hemoglobin in the blood in pulsating vessels.  So basically a blood oxygen measuring tool or blood oxygen measurement device for at home use or in other settings as needed.

A clip-like device called a probe is placed on a body part, such as a finger or ear lobe. The probe uses light to measure how much oxygen is in the blood. This information helps the healthcare provider decide if a person needs extra oxygen.

Pulse oximetry may be used to see if there is enough oxygen in the blood. This information is needed in many kinds of situations. It may be used:

During or after surgery or procedures that use sedation

To see how well lung medicines are working

To check a person's ability to handle increased activity levels

To see if a ventilator is needed to help with breathing, or to see how well it's working