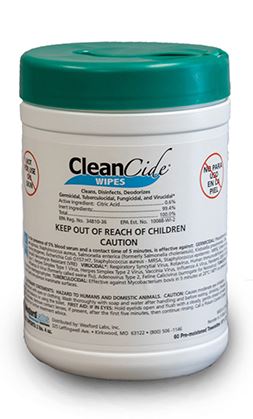 CleanCide by Wexford Labs Disinfectant Wipes (160 Count) $9.99
CleanCide Disinfecting Wipes 160ct by Wexford Labs
Kills 99% of household germs.
Eliminates odor-causing bacteria.
Low pH
Meets OSHA Requirements for Bloodborne Pathogens.
HMIS ratings (health, reactivity, fire and protection) are all "0"
Sanitizes in 1 minute.
These RETAIL for $49.99 at almost every major distribution or hospital supply website. 
Cleaner and disinfectant in one
EPA N LIST APPROVED
Broad Spectrum Cleaner: Tuberculocidal, Germicidal, Pseudomonacidal, Fungicidal and Virucidal
Contact Time: 5 Minutes
Active ingredients: Citric Acid
Does Not Contain: Phenol, Quat, Alcohol, or Bleach
Effective in 5% blood serum
Contains 160 Wipes per Bucket

 

(Each wipe is 7″ x 7″)
Made in the USA
EFFECTIVE IN THE PRESENCE OF 5% BLOOD SERUM IN A "ONE-STEP PROCESS" (CLEANING/DISINFECTING) AGAINST:
Vegetative organisms:

 

Escherichia coli, Klebsiella pneumoniae, Listeria monocytogenes, MRSA, MRSE, VRE, Pseudomonas aeruginosa, Staphylococcus aureus, Salmonella enterica.
Viruses:

 

Adenovirus, Feline Calicivirus – surrogate for Norovirus, Herpes Simplex Virus Type 1, Herpes Simplex Virus Type 2, HIV Type 1, Influenza A Virus, Pandemic 2009 (H1N1) Influenza A, Respiratory Syncytial Virus, Rotavirus, Vaccinia Virus.
Fungi:

 

Trichophyton mentagrophytes
Cleancide Disinfecting Wipes are also Ideal for operating rooms, surgical centers, neonatal units, medical and dental operatories, and other critical-care areas.