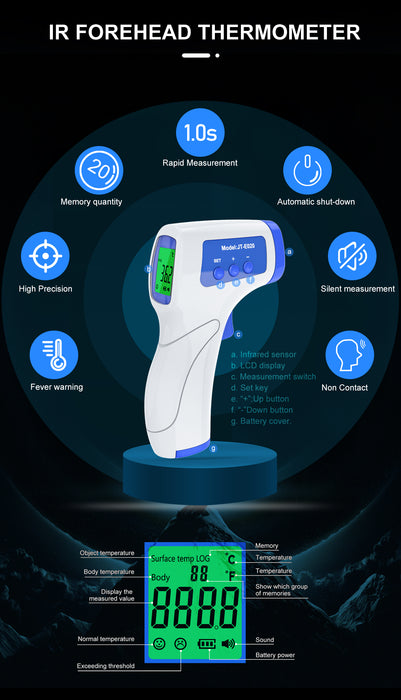 Infrared Thermometer $9.99 CLOSEOUT
INFRARED THERMOMETER
Medical Grade
Fast: 1 second no touch Temperature Measurement
Intelligent: 3-color Display Temperature
Multipurpose: Character/Dual Use
This advanced infrared temperature gun is simple to use. It works by using an infrared detector to determine body temperature from the temple for adults & children and can be used both at home and hospitals.
The non-contact infrared thermometer is designed for everyday use and is very practical. It can also be used to measure any temperature other than human body, such as the room temperature or liquids.

Digital thermometers or IR Thermometers are widely used in many places of business to ensure proper protocol and ability to notice modest spikes in temperature.
This digital infrared thermometer is designed specifically to take a persons body temperature without physical patient contact. Features include:
The best No contact thermometer - Portable digital infrared temperature gun.

Touchless thermometer helps avoid touching skin, convenient to measure temperature with no risk for cross infection.

LCD Display, Back-lit Display can be clearly displayed under any light.

Comfortable grip handle. Buttons and the trigger are designed for one hand operation.

Measure a surface temperature without contact. Reducing cross-contamination and minimize risk of spreading diseases.

Measuring Time: Simply press the measure button, detects temperature in just 0.5 seconds. High efficiency, no need to wait, save your time!

Measuring Distance: 5-15cm

Fast reading thermometer

Auto power off
Dual Mode ℃/℉ Switchable. 

Accurate infrared Thermometer.

Ergonomic design.

Easy to clean and disinfect.

Measures temperature and displays reading rapidly.

Provides ability to retake a temperature quickly.

Measurement Method: Infrared, electronic.

Applications: Medical, pediatric, multi-function, laboratory.