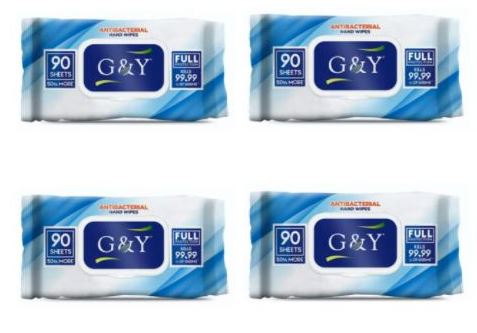 G&Y Antibacterial Hand Wipes 90 Sheet Each, (4 PACK) - $12.99
4 PACKS OF 90 SHEETS EACH
G&Y Antibacterial Hand Wipes -4 Pack
(Only $3.00 per pack)
90 hand wipes per pack
Full protection - Kills germs
Active Agent - Akyl (c12-16) Dimethylbenzyl ammonium chloride
G&Y ANTIBACTERIAL HAND WIPES PROVIDE EASY AND PRACTICAL CLEANING BY KILLS 99.9% OF GERMS* WHENEVER YOU NEED WITHOUT USING WATER AND SOAP.

PROVIDES EFFECTIVE CLEANING WITH ITS THICK AND WET WIPES.

THESE WIPES PROVIDE MAXIMUM PROTECTION IN EVERY USE.

6.29" X 7" (16CMX18CM)
Our sanitizer wipes provide effective cleaning with a durable and thick design.
MSRP $6.99-$8.99 EACH