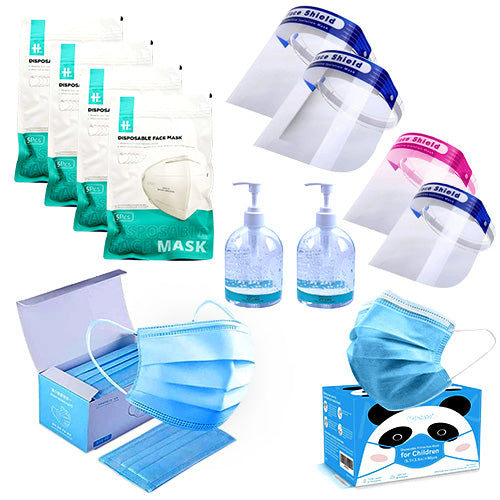 DEAL OF DAY - MAXIMUM PROTECTION FAMILY PACK - PPE $49.99 (60% off)
We are pleased to offer this AMAZING deal value at 60% off our retail prices if you bought individually on our site, don't believe us see for yourselves www.n95medicalsupplies.com.  Designed to provide many levels of protection and tools needed for a family or group of friends.  This package includes:
4 of our 5 packs of CDC tested by modified NIOSH KN95 Face Masks.  $49.99 msrp
4 Adult or Kids Face Shields (Mix and Match)   $24.99 msrp
1 Box of Adult 3 ply masks (50 pieces)   $19.99 msrp
1 Box of Children 3 ply masks (30 pieces)   $14.99 msrp
2 Alcohol based Hand Sanitizers 16 oz w/Pump   $14.99 msrp
KN95 Masks are a formidable weapon in the fight against CoronaVirus in that these KN95 Masks have similar filtration standards as N95 Masks.   The Center for Disease Control (CDC) has approved KN95 masks as authorized in the place of N95 masks for the response to COVID19.  Both KN95 and N95 masks are rated to capture at least 95% of tiny particles in the air.  See our manufacturers CDC test results here.
https://www.cdc.gov/niosh/npptl/respirators/testing/results/MTT-2020-266.1_International_DongguanHuaGang_KN95-A_TestReport_Redacted-508.pdf
Reusable Face Shields from N95 Medical Supplies are made to be comfortable and safe.
Reusable Face Shield-Direct Splash Protection
Anti-Fog and Anti-Static treatment 
Latex Free, fiberglass free, distortion free

Foam headband relieves pressure

Light weight, Optically clear
3 Ply Face Masks are CE Certified.  These disposable Adult and Kids face masks are suitable for daily protection from viruses, bacteria, allergens, and more.  Our 3-ply masks are made with only the highest quality of materials.
16oz Hand Sanitizer Gel 75% Alcohol, Kills 99% of Germs. Protect Yourself From Illness,  FDA Compliant hand sanitizer gel.  75% Alcohol / 25% Gel.